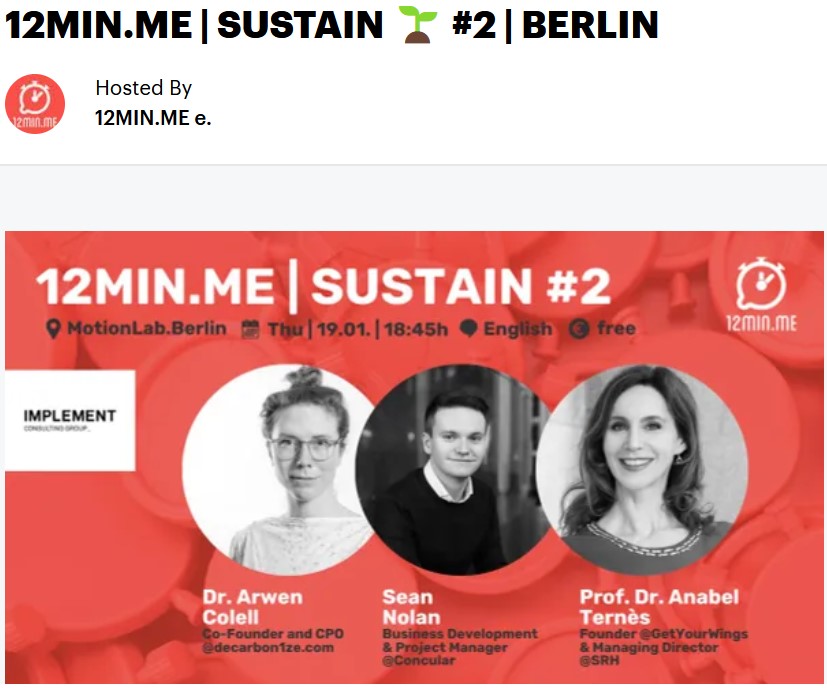 12MIN.ME | SUSTAIN #2
We want to start the new year with sustainable resolutions! Therefore we're excited to invite you to our second 12min.me | SUSTAIN event on Thursday, January 19th 2023 to discuss the importance of sustainability in the modern world and the ways in which we can all make a positive impact.
This event is designed to bring together people from all sectors who are interested in sharing ideas, knowledge, and resources related to sustainability.
Our keynote speakers will be:
Dr. Arwen Colell, Co-Founder & CPO at decarbon1ze.com talks about "Use it or lose it: No more wasting wind energy"
Sean Nolan, Business Development & Project Manager at Concular talks about "Circular construction & climate change"
Prof. Dr. Anabel Ternès, Founder at GetYourWings and Managing Director at SRH talks about "How a future mindset can save our planet"
As always, there will be a Q&A session with each expert, as well as networking opportunities with like-minded professionals. We encourage you to be ready to make connections with others who share your passion for sustainability!
The event will take place at MotionLab.Berlin, Bouchéstraße 12/Halle 20, 12435 Berlin, start 19:12 sharp (arrival from 18:45). Please RSVP via Meetup to confirm your attendance.
We hope to see you there!