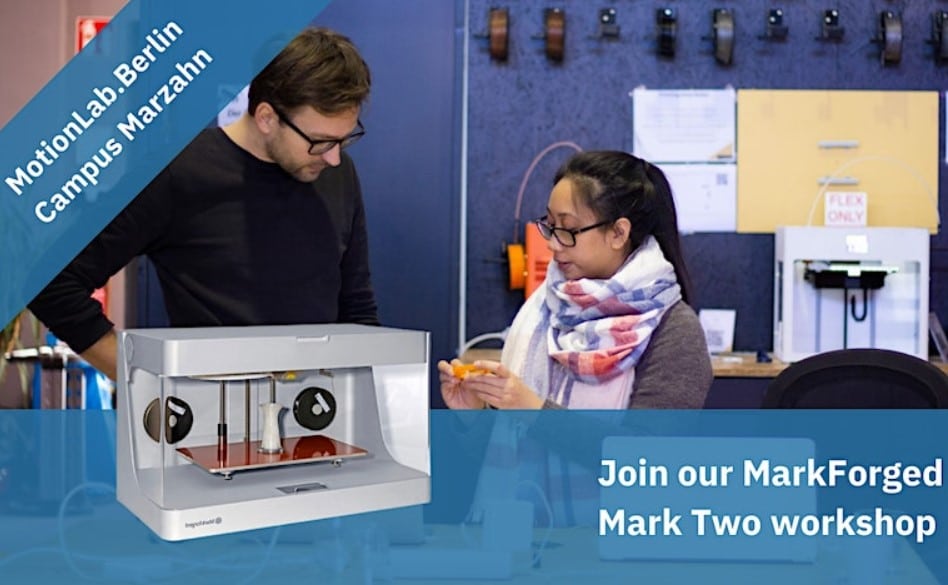 Workshop – Markforged 3D Printing | Open Campus Week Marzahn
Be one of the next to experience our new co-working- & makerspace in Marzahn and take part in exciting workshops & events, such as the Markforged Mark Two 3d printing workshop, during the week.
In this three-hour 3d printing workshop you will learn how to use a Continuous Fiber Reinforcement (CFR) 3D printer. This technology allows you to produce fast and reliable 3D printed models with different types of Composite Base Filaments and Continuous Fibers. By the end of the 3d printing workshop, you will have understood the whole production process of a CFR printed piece: from preparing your data, to printing and post producing an object, and you will be able to work independently with a 3D printer.
Although you don't need to have any previous experience with 3D printing for this 3d printing workshop, it is important for you to have some basic knowledge about 3D modeling. If you don't have it, we recommend attending before the Introduction to CAD design with Autodesk Fusion 360 Workshop.
Learning outcome
During the 3d printing workshop you will learn how to:
Design geometries suitable for prototyping with a SLA Printing
Understand the difference between SLA and FDM Printers
Prepare your 3D file using Formlabs Preform slicing software
Use the Formlabs Form 2 and Form 3 3D printers
By the end of the session, you will have the opportunity to present a project of your own to the instructor, and review the plan you have for 3D printing it.
Completing this workshop will also grant you access to the Formlabs SLA Printers at MotionLab.Berlin.
Prerequisites
For this 3d printing workshop you will need:
A laptop with Formlabs Preform software pre installed (You can download the free software HERE)
A mouse with a scroll wheel
Other materials for the workshop will be provided to you and are included in the price.
This workshop is held in English, and in German at specific request.