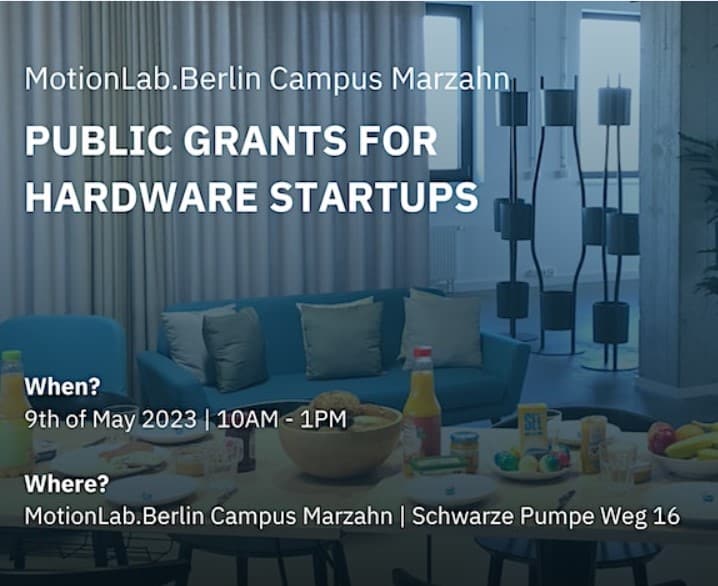 Community Breakfast – Public grants for hardware startups | Open Campus Week Marzahn
Find out how you can successfully secure funds for your startup growth through subsidies and public grants, our experts will tell you how!
[IMPORTANT: FEEL FREE TO STAY FOR THE REST OF THE DAY AFTER THE BREAKFAST AND COWORK WITH US 💙]
Come and join the breakfast together with our MotionLab.Berlin partners and experts –
Our experts will tell you more one the topic of public grants for hardtech startups:
What funding and public grants are available for startups and innovative companies?
How can they be combined?
How do you take the first steps, which strategy makes sense in which situation?
Afterwards we will have a Q&A session with each of the experts, so don't miss your chance to receive valuable advice.
Take the opportunity and let yourself be inspired, meet new people and acquire valuable knowledge to collect capital and public grants for your growth as a startup and, if necessary, to make your next investment round even more successful!
MotionLab.Berlin | Events in Berlin
Are you interested in more events on topics such as hardtech, modern machinery, prototyping, business workshops, networking, fundraising, female founders, venture capital, community events, different startups or our programs? Check out all our events here!
Or do you want to host your own event at our eventlocation Berlin in Alt-Treptow? Check out our eventlocation and send your request.