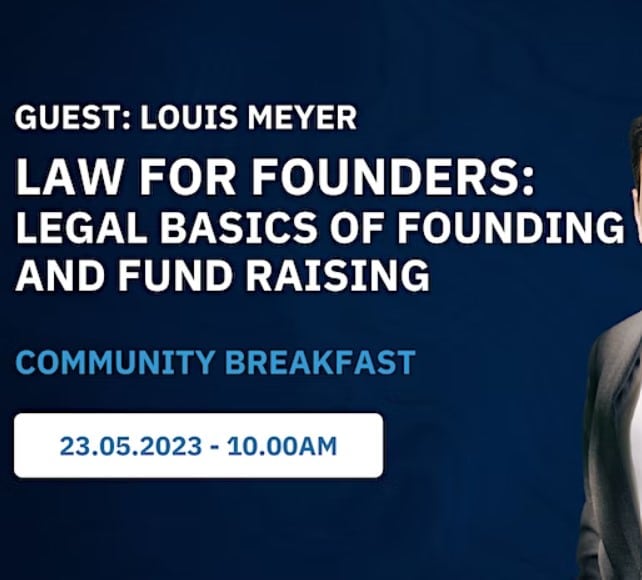 Community Breakfast | Law for founders: Basics of founding and fundraising
Get to know more about the legal basics of founding and fundraising for startups by our expert Louis Meyer from Lambsdorff Rechtsanwälte!
Enjoy a delicious breakfast together with our MotionLab.Berlin business founding and fundraising for startup expert Louis Meyer – Partner Corporate / Venture Capital – at Lambsdorff Rechtsanwälte.
In this session, Louis will talk about the fundamentals basis you need to know about founding and fundraising in the world of startups.
Choice of legal form: UG, GmbH or Business Partnership
Founding with Co-Founders:
The Co-Founders' Stakes in the Company's Share Capital – Commitment and Control
Later Onboarding of Co-Founders
Founder Vesting
Raising VC Money:
Convertible Loan vs. Equity Round
Standard Terms asked by Early Stage Investors and a quick look at what to negotiate
Take the chance and get inspired, meet new people, enjoy delicious food and learn valuable knowledge about funding and fundraising for startup to build a better company.
This event is limited to 25 MotionLab.Berlin Members (please bring show your Member card) and 10 external.
MotionLab.Berlin | Events in Berlin
Are you interested in more events on topics such as hardtech, modern machinery, prototyping, business workshops, networking, fundraising, female founders, circular economy, community events, different startups or our programs? Check out all our events here!
Or do you want to host your own event at our eventlocation Berlin in Alt-Treptow? Check out our eventlocation and send your request.