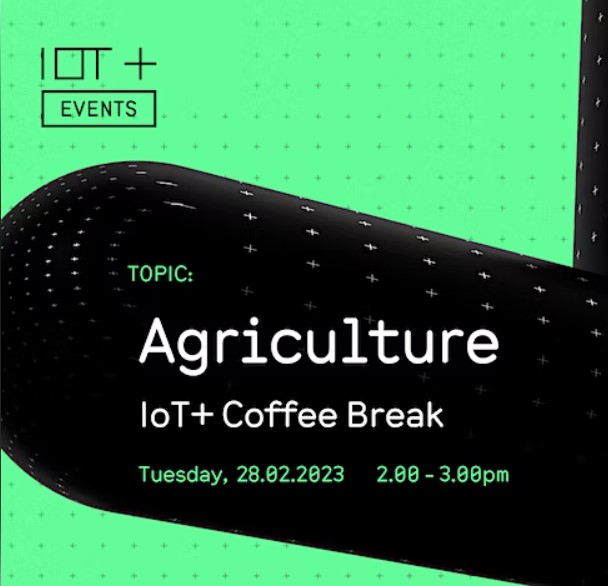 IoT+ Coffee Break: Agriculture
Moderated by the IoT+Network, 3 speakers will tell you in an interactive exchange that demands and applications already exist in this field. Learn about how IoT is changing the Agriculture Industry.
Martin Peter, Co-Founder and Co-Ceo of Lite+Fog.
After studies in physics and arts, Martin Peter engaged early in urban agriculture and developed multiple growing stations and new growing techniques. Out of this experience and the promising approach of fogponics for controlled environment agriculture Martin co-founded with his father Uwe Peter Lite+Fog in 2019 to update modern agriculture and connect it to modern-day standards of digital collaboration.
Uncharted lands – IoT in agriculture and global supply
Put a few sensors on a field and you already have an innovative startup.
Agriculture is a heavily under-developed field for IoT and digital technologies – yet one of the most important factors for our transition to a sustainable future and certainly the biggest and most stable market out there.
This presentation will show, what a complete digitization of our production and use of plants would mean, how the world could benefit of that and what Lite+Fog does to contribute.
Julio Pastrana, Co-Founder Escarda Technologies Sustainable Laser Based weeding system
Julio will present plant recognition software that identifies weeds in crops and then precisely destroys them with a laser. Herbicide-free crops, environmental protection, and wellbeing should be the norm.
Ferdinand Kemeth, head of the Efficient Communication group at Fraunhofer Institute for Integrated Circuits IIS.
He received his diploma degree in electrical engineering from the Friedrich-Alexander University Erlangen-Nürnberg (Germany) in 2009. His group is responsible for the development of the innovative telegram splitting-based Low Power Wide Area Network protocol mioty.
Mioty as a sustainable communication protocol for monitoring and controlling tasks
Pressure on farmers is increasing due to different regulations on the use of pesticides, fertilizers, and water.
The targeted use of water and fertilizers is important, but IT-based resource-saving solutions are generally very expensive. With the mioty technology and the corresponding sensors, it is possible to measure humidity and temperature at different depths cost-effectively and reliably, and in the future even to control actors.
Register and be part of the experience!
If you have any questions about this event please contact us at hello@iotplus.network.
The IoT+ Coffee Break is an interactive event where experts share concrete examples and IoT applications demonstrating the innovative power of IoT. Everyone is welcome to join, listen, and participate in the Q&A.