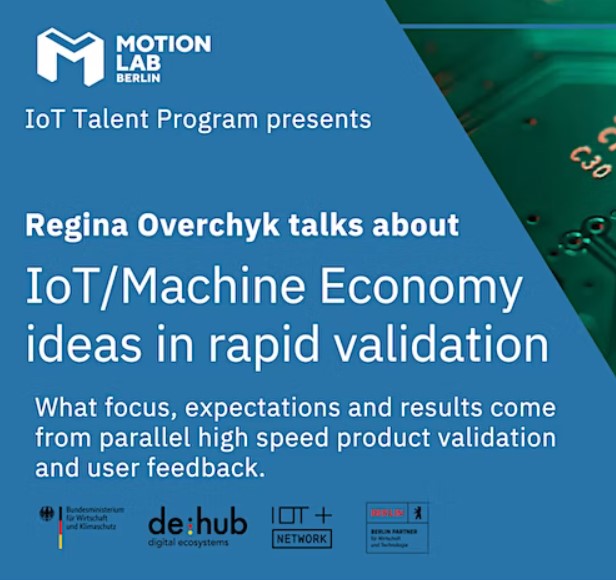 IoT/Machine economy ideas in rapid validation – IoT program public event
IoT/Machine economy ideas in rapid validation – Join our next public iot event!
As part of the IoT Talent Program, a 10-week IoT bootcamp for young talents, we're bringing in industry experts to talk about current challenges, and to give a preview of what's happening in IoT right now through our series of regular iot events at MotionLab.Berlin. Be inspired by first-hand insights into the technical possibilities and solutions that will change entire industries.
Regina, Incubation Program Manager at Next Big Thing (NBT AG), will share some cases of the newly formed batch of ideas focusing around manufacturing excellence, wearables, ESG management solutions, equipment as a service, and logistics.
Prior to joining NBT, Regina has been building programs for founders with SDG-focused products in MENA, Asia, Latam and Africa, was previously building and developing a business angel network, and been cherishing community building along the way, being a co-organizer of networking event of Silicon Drinkabout Kyiv and ambassador of Pirate Summit.
Get your free ticket now!
https://www.eventbrite.de/e/iot-talent-program-praxis-talk-iotmachine-economy-ideas-in-rapid-validati-tickets-546441289607
Join our next iot event on the 16th of March and check out all our other events HERE!
Want to host your own event at our eventlocation Berlin? Here you can find all information and the contact form.