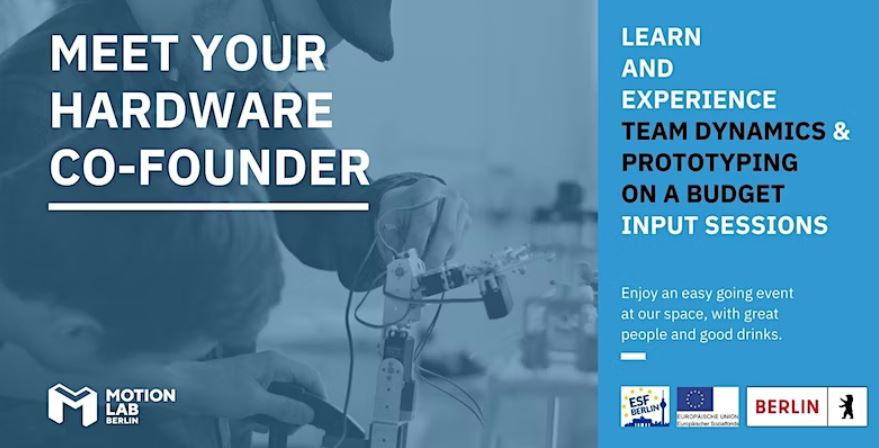 Meet your hardware startup co-founder at MotionLab.Berlin!
You have a hardware startup idea, but haven't found your perfect co-founder match to realize it? Then this is the sign you've been waiting for!
About this event at MotionLab.Berlin:
We hear it over and over again: You got a great idea, want to bring it to reality and you are looking for a co-founder but you don't know who to take this career-defining step with, nor do you know where to even start!
Trust us, we got you covered. We not only have the perfect hardware space and program for you, but also the perfect opportunity to find your future startup soulmate.
About the program:
We wake up hardtech innovation! In our 6 month accelerator program, MakeUp Hardtech Innovation, we provide early-stage hardtech founders with the prototyping space, startup funding, hands-on coaching and knowledge they need to scale their ideas. All this available right here at the heart of Berlin's hardware scene, MotionLab.Berlin. You haven't heard of the space yet? First of all: Shame on you! 😉 Secondly: Don't wait any longer, book a tour and come to our event!
About the event:
In this interactive workshop format you will not only learn how to prototype on a budget and explain your ideas in a few simple steps, but you are also able to see how it would be like to work with your potential future co-founder. Isn't that great?!
Perks of this workshop: Learn and experience team dynamics, prototyping on a budget input session, easy going event in our MotionLab.Berlin space, great people and good drinks.
Make sure to sign up and get a ticket, since they are LIMITED!
If you can't make it to the event, please make sure to cancel your ticket at least 24 hours in advance. Think of your Karma points.
Any questions? Reach out to us at any time. Your MotionLab.Berlin team.
Agenda at MotionLab.Berlin:
17:45 Uhr: Open doors
18 Uhr: Welcome & program details
18:15: Part I: Prototype in your team …
within the following focus areas (1) Circular economy, (2) Mobility & logistics, (3) Energy & solar, (4) Manufacturing, (5) Robotics and cobots) and develop your very first mockup in just 30 minutes
19:15 Part II: Pitch your idea
19:45 Part III: Networking and mingle