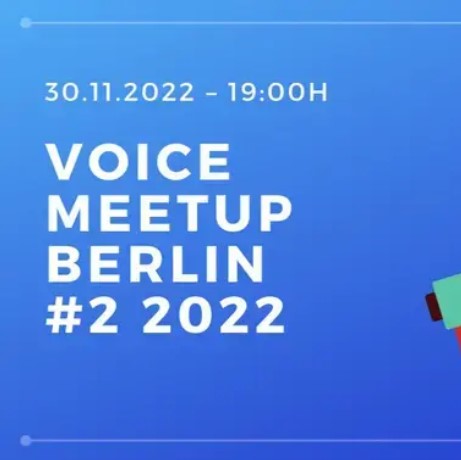 Voice Meetup Berlin #2 2022
It's that time again and the Voice Meetup Berlin#2 2022 is just ahead. After the last Meetup Berlin took place remotely, we are incredibly happy that we can welcome you in person again. With MotionLab Berlin, we have been able to win a host who provides us with the perfect venue for our event in Berlin. And of course, we have invited experts again to share their most exciting and inspiring voice topics with us.
Schedule:
19:00: Welcome & Introduction 👋
19:15 – 20:15: 4×15 minute presentations. 🙌
20:15: Lightning Talks ⚡️
20:25: Mingle and discussions and some snacks and drinks. 🍕🍻
Speakers:
We proudly present!
1️⃣ Jan König
Co-Founder @ Jovo
💡 "5 Years in Voice: What we learned from building an open source voice framework"
—
2️⃣ Hannah Kern
Product Owner @ Mercedes-Benz AG
💡 "#HeyMercedes"
—
3️⃣ Hannah Laura Schneider
Co-Founder @ Charismatischer.de
💡 "How can we measure and design Charisma in Voices – Insights into Acoustic Voice Profiling"
—
4️⃣ Jonas Felfeli
Senior Conversational Technologist @ MUUUH! Next
Vanessa Smolik
Voice User Interface Designer @ Future of Voice
💡 "How to build award winning e-commerce voice bots – VUI pitfalls and learnings with HSE"
—
Lightning Talks:
5️⃣ Justin Mertens
Global Project Manager @ ERGO Group AG
💡 "A Prototype for the Future of Conversational AI"
—
Anyone up for a 5 minute lightning talk?
Have you built something you want to share or learned something special in the last month? We want to hear about it. Sign up before the event by email: leon@futureofvoice.com
As the number of participants is limited, it is imperative that you confirm your attendance at the event.