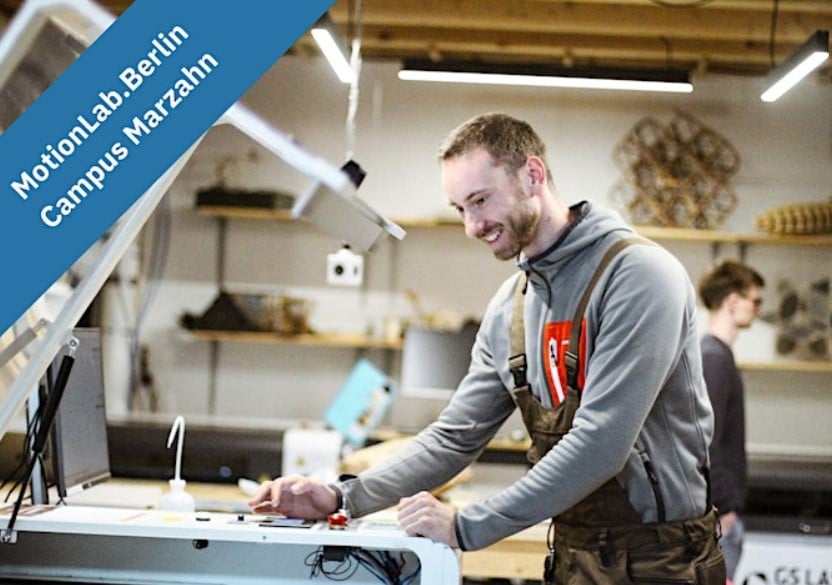 Workshop – Introduction to laser cutting and engraving | Open Campus Week Marzahn
In this three-hour workshop you will learn how to use laser engraving and cutting machinery.
Be one of the next to experience our new coworking- & makerspace in Marzahn and take part in exciting workshops & events during the week.
This technology allows you to prototype with different types of materials by cutting and laser engraving. By the end of the session, you will have gone through the whole production process of a laser cut piece: from preparing your data, to cutting and engraving an object, and you will be able to work independently with the laser cutters.
Learning outcome
During the workshop you will learn how to:
Prepare your vector or image file in a vector graphics software
Use a laser cutter to cut, mark and engrave different types of materials, like plywood, acrylic glass, cork or leather.
Cut patterns from sheet metal like steel.
By the end of the laser engraving and cutting workshop, you will have the opportunity to present a project of your own to the instructor, and review the plan you have for laser engraving or cutting it.
Completing this workshop will grant you access to our GS Laser Systems laser cutting machines at MotionLab.Berlin.
Prerequisites
For this course you will need:
Basic knowledge of a vector graphic software (i.e. Inkscape or Adobe Illustrator)
A laptop with Inskscape (Free) or Adobe Illustrator (Paid) pre-installed.
Other materials for the workshop will be provided to you and are included in the price.
This workshop is held in English, and in German at specific request.
Your Instructor
Hi! I'm Madeleine Marquardt, and I am a textile and fashion expert. My background in textile research, fashion production development and art studies allows me to work with a lot of different materials and production processes to create innovative materials, prints, outfits, and machines, I have been instructing more than 40 people at MotionLab.Berlin for the past 6 months.