Theory or practice? We want both!
You have enough of boring theory and want to finally put your know-how into practice?
Our Internet of Things program is just the right choice for you!
Through our 10 week program you can prove your theoretical knowledge, pursue your own project, work on one of our corporate challenges and position yourself on the job market for future projects and employers. And the highlight: Our program is certified by BMWK, De-Hub and IoT+ Network. Apply until January 2nd and become part of our program, including mentoring, machinery, workshops and more, in the worth of €100.000 absolutely free of charge!
Early contact with potential employers!

Through access to our diverse network and startup community, you will already be able to establish important contacts.
Be part of an high-profile scouting pool!
Become a part of our professional scouting pool and receive exclusive job postings and opportunities.
Turn your theoretical knowledge into practice!
Learn how to 3D print, laser cutting, solder, mill etc. and increase your skill set with important properties.
Expand your expertise with practical methods!

Get to know successful methods for implementing project management and teamwork.
IOT TALENT PROGRAM GRADUATION DAY
During our 10 week program you will get access to:
OUR CORPORATE IOT CHALLENGES
Speaking from our own experience, we know how important it is to gain practical skills and know-how during your studies in order to be able to successfully enter the job market. In order to make this step even more straightforward, we have another highlight for you: our corporate challenges, straight out of the practice of our corporate partners, on which you can work together with other students out of our program.
The first aid equipment with real-time monitoring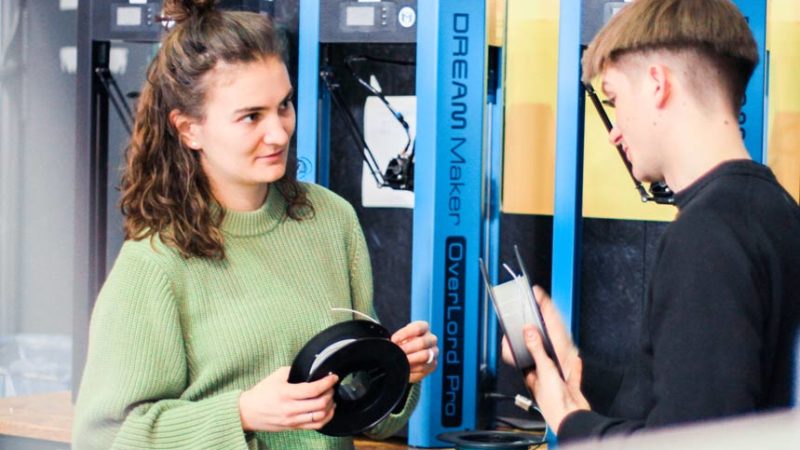 Make Resc.Io even smarter and design a visual dashboard that customers love. For this, you will choose the appropriate hardware components. Develop a system to send data by the trigger to the resc.io backend and ensure configurability. As an add-on we want to integrate NFC identification.
The IoT driven and smart customer dashboard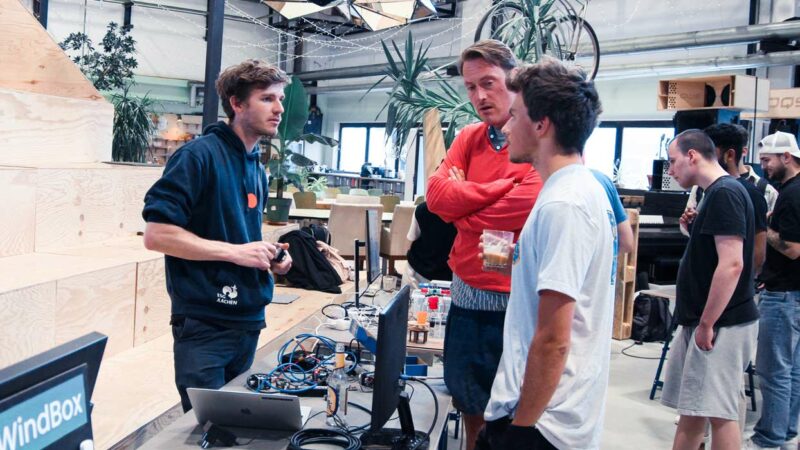 Work together with ABUS on developing an IoT driven customer dashboard for the best possible user experience. You will mainly work on capturing specific customer needs for function and benefit, as well as on the orientation towards technological requirements of the cloud infrastructure and UI/UX design guidelines.

LOOKING FOR NEW IOT TALENTS?
OUR CORPORATE PARTNERSHIP
Are you looking for new talents and young, well-trained employees in the fields of Internet of Things, software engineering, AI, electrical engineering and other similar disciplines?
We provide you with exclusive access to a large pool of young talents right at the perfect time for recruiting! Besides the low costs for recruiting processes, your iot program partnership offers you many other advantages. Check them out!
Application phase:
01. November –
02. January 2023
Selection phase
03. – 06. January 2023
Program runs: 
13. January – 24.March 2023
Internet of Things – Program criteria
We welcome all students that: 
studying at Berlin & Brandenburg universities

studying as a bachelor or master and are at least in the 5th semester

you have interest in computer science, coding, machine learning, IoT, engineering and business development

want to be part of a great network of alumnis, startups, corporates, experts and business networks to face challenges around IoT in the near future

are looking for a access to exclusive job opportunities
If you are not sure if you meet our criteria, don't hesitate to get in touch with us directly and we are excited to get to know you.
Step 1: Apply under the following LINK, until 02.01.2023.
Step 2: We will inform you by 06.01.2023 whether you have been selected for the program.
Step 3: Program start on 13.01.2023
Step 4: Realization of your project, supported by input sessions, product development and workshops.
Click here for the entire module overview.
Step 5: Finalization of the project by the 24th of March 2023.
Step 6: Inclusion into the talent pool and presentation of the developed project status at our Demo Day 
LEARN FROM A WIDE RANGE OF
INDUSTRY EXPERTS & COACHES
Diverse knowledge, the combination of theoretical knowledge and practical experience, farsightedness and the will to think innovative in order to solve the diverse challenges of the future have always been the claim of good education and teaching. For this reason, our IoT talent program focuses on direct learning from industry experts and get first hand knowledge and hands on experiences. After completing the program you will be part of Berlin's elite pool of young IoT graduates positioning as a top talent within IoT prototyping.
BECOME AN EXCLUSIVE PARTNER OF ONE OF OUR PROGRAMS NOW!
BECOME AN EXCLUSIVE PARTNER
OF ONE OF OUR PROGRAMS NOW!
INTERNET OF THINGS PROGRAM