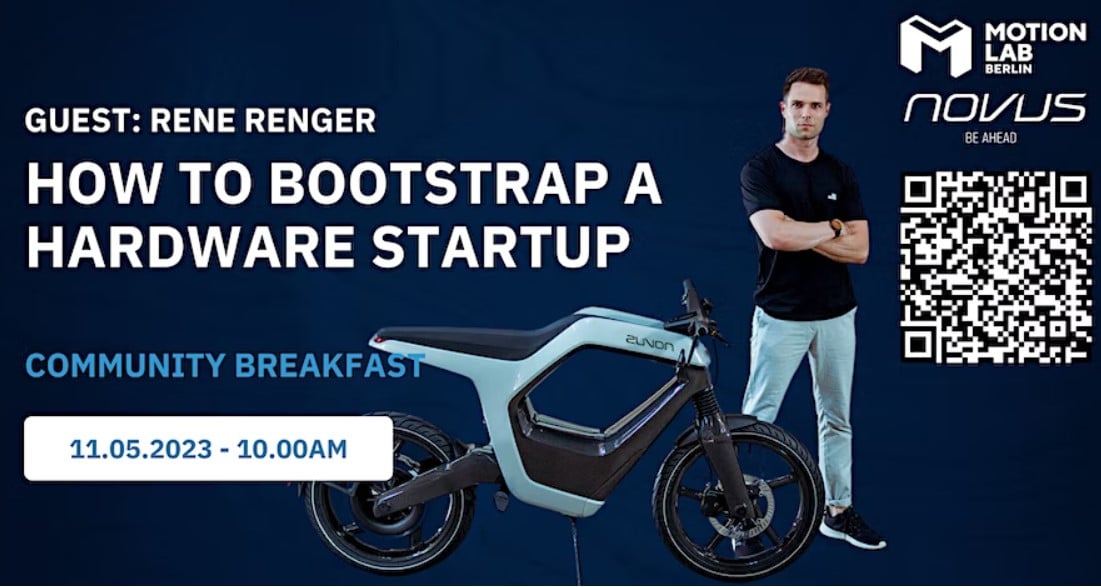 Community Breakfast | How to bootstrap a hardware startup
Learn everything about the difficulty of building a high-tech hardware startup from our expert Rene Renger, CEO & co-founder of NOVUS Bike.
Enjoy our community event breakfast together with our MotionLab.Berlin tech expert Rene Renger – CEO & Co-Founder – of NOVUS Bike, the first premium lightweight e-motorbike.
While eating some delicious crossiants, Rene will talk about the difficulty of building a high-tech mobility hardware startup from nothing and what you can do to succeed with it.
How to bootstrap something you usually can not bootstrap
How to create something that is far outside your skill level
Why how you do things is sometimes more important than why you do it
Take the chance and get inspired, meet new people, and enjoy delicious food. Learn valuable knowledge to build a better company.
This community event is limited to 25 MotionLab.Berlin Members (please bring show your Member card) and 10 external.
MotionLab.Berlin | Events in Berlin
Are you interested in more events on topics such as hardtech, modern machinery, prototyping, business workshops, networking, female founders, circular economy, community events, different hardware startups or our programs? Check out all our events here!
Or do you want to host your own event at our eventlocation Berlin in Alt-Treptow? Check out our eventlocation and send your request.