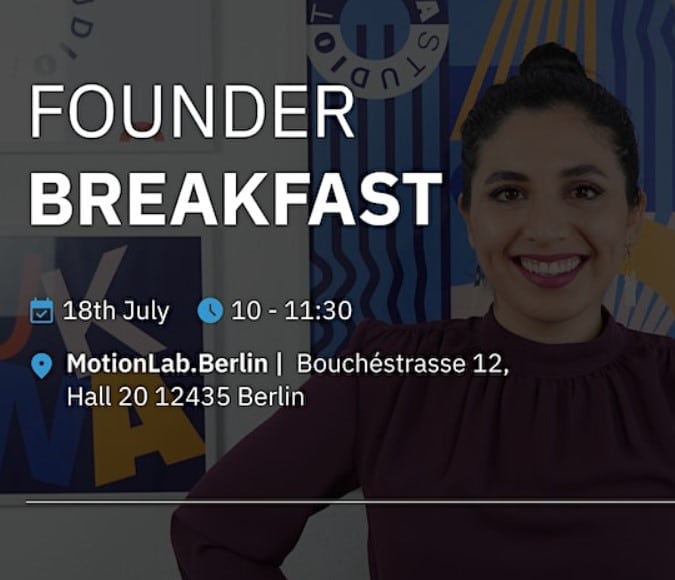 Founder Breakfast | Brand identity tips for hardware startups
Founder Breakfast | Brand Identity Tips for Hardware Startups at MotionLab.Berlin
When? July 18th, 2023 from 10:00 – 11:30 a.m.
Join us for an engaging session focused on "Brand Identity Tips for Hardware Startups," featuring a remarkable speaker, Gabriela Corral, Founder and Creative Director of Tukuna Studio.
Gabriela Corral is an industry expert with knowledge and experience in brand development. Her insights will provide you with the guidance you need to establish a strong brand identity for your hardware startup. Whether you're just starting out or looking to enhance your existing brand, Gabriela's tips will be highly beneficial.
Why should you attend this event?
Picture this: you've spent countless hours perfecting your product, meticulously crafting its design and functionality. But how do you differentiate yourself from competitors? How do you communicate your unique value proposition effectively? This is where branding comes in. A strong brand identity sets you apart from the crowd, allowing you to connect with your target audience on a deeper level. It builds trust, loyalty, and credibility, which are essential elements for the success and growth of your hardware startup.
Moreover, a strong brand acts as a compass, guiding your decisions and shaping your company culture. It helps you make consistent and coherent choices that align with your core values and resonate with your customers.
By attending this Founder Breakfast, you'll gain actionable insights and strategies to develop a brand identity that not only stands out but also reflects your vision and mission.
Secure your spot now and mark your calendars for a morning filled with knowledge, networking, and of course, a delicious breakfast to kick-start your day.
We look forward to welcoming you at the Founder Breakfast!
Get your ticket here: https://www.eventbrite.de/e/founder-breakfast-brand-identity-tips-for-hardware-startups-tickets-656562103927?aff=oddtdtcreator
MotionLab.Berlin | Events in Berlin
Are you interested in more events on topics such as hardtech, modern machinery, prototyping, business workshops, networking, fundraising, female founders, venture capital, community events, different startups or our programs? Check out all our events here!
Or do you want to host your own event at our eventlocation Berlin in Alt-Treptow? Check out our eventlocation and send your request.