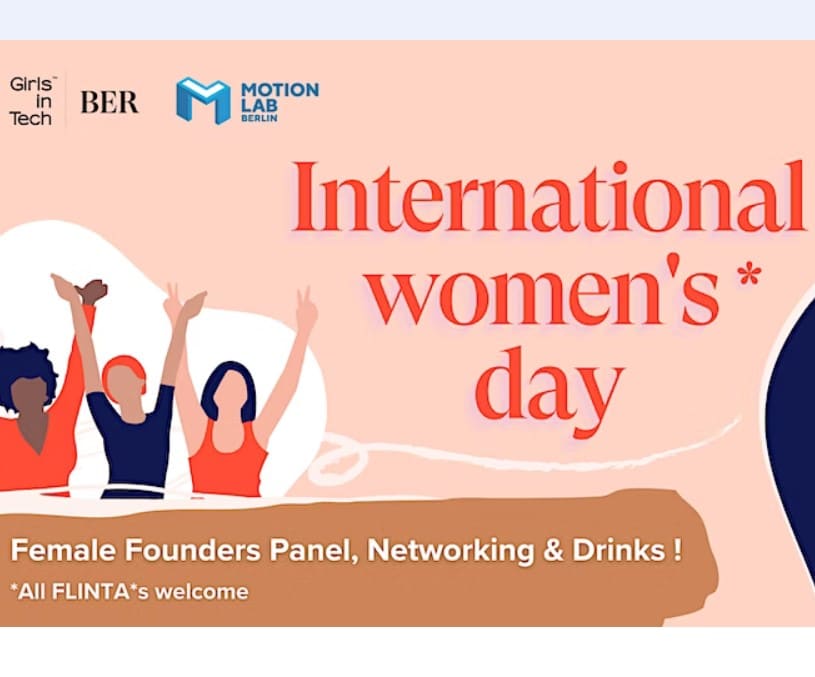 Girls In Tech | International Women's Day Panel
Are you looking to connect with other wxmen in tech? Want to get inspired by female founders, leaders and entrepreneurs in hard and soft tech?
Then come celebrate on the eve of International Women's Day with your Girls in Tech community and other female founders and wxmen in tech! 🎉 Let us take this moment to network and celebrate our accomplishments among fellow tech ladies 💪 Whether you are new to tech, or have years of experience, this event is for you! All tech backgrounds are welcome – UX, sales, engineering, product management, business, research… you name it!
In this event you will enjoy a discussion with female founders and leaders in tech. Our guest speakers represent diverse industries and backgrounds . We will discuss their path to entrepreneurship, and share insights on how wxmen in tech can support and mentor each other.
This event is hosted by MotionLab.Berlin, where free drinks will be provided 🥂
–Please note that this event is exclusively for the FLINTA* community!–
*Female, Lesbians, Inter, Non-binary, Trans and Agender people
*About the event*
When: Tuesday, March 7th, 2023. Doors open at 6pm.
Where: MotionLab.Berlin, Bouchestr. 12 Halle 20, 12435 Berlin
🌍 For event location, please refer to: https://goo.gl/maps/XXiWcJdpvwMQfvKd8
*Agenda*
6PM – Doors open, casual networking
6:30PM – Opening Talk by Girls in Tech Berlin
Networking & Tour of MotionLab.Berlin
7.30PM – Panel Discussion and Q&A with our guest speakers of female founders
8.45PM – 10PM – Networking and wrap up
*Guest Speakers*
Pooja Channaveerappa, Design Engineer (founding team) @Pocket Reform
Dr. Naja von Schmude, Co-Founder & CTO @Peregrine.ai
Lisa Wendzich, CEO @SunCrafter
* About the organizers*
This event is brought to you by Girls in Tech Berlin – where women empower women. Want to be the first one to hear about the upcoming events? Sign up for our monthly newsletter here 📩
LinkedIn Page: Girls in Tech – Berlin | LinkedIn Group: Girls In Tech – Berlin
Instagram: girlsintech.berlin| Facebook: girlsintechberlin | Facebook Group: Girls in Tech Berlin
—
This event is hosted by MotionLab.Berlin – a hardtech innovation hub & makerspace, which offers access to machinery, office space, coworking and community.
Web: motionlab.berlin | Instagram: @motionlabberlin #motionlabberlin
Want to check out our other events at MotionLab.Berlin? Check them out!
Or want to get to know more female founders? Join us for a tour!