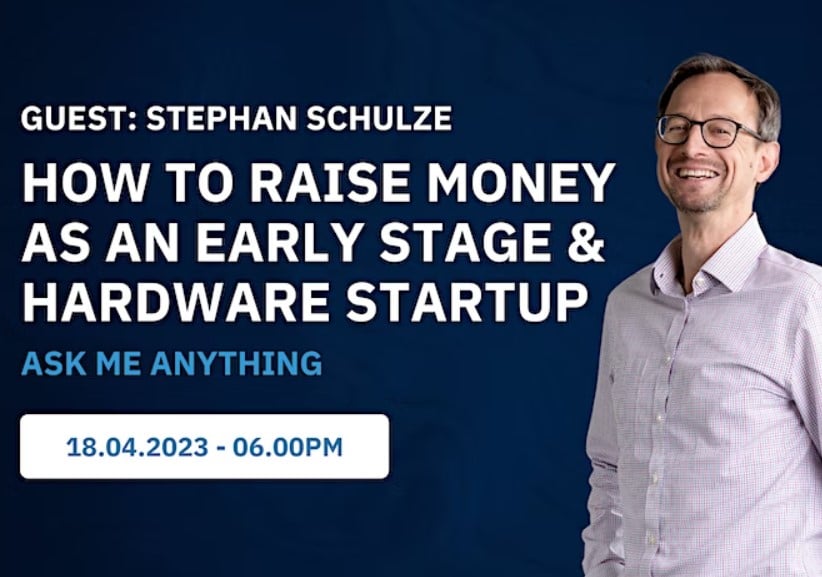 Ask me Anything – How to raise money as an early stage & hardware startup
Join our next "Ask me anything" event live at our eventlocation Berlin Alt-Treptow and get valuable insights & tips directly from the investment director Stephan Schulze of IBB Ventures to get ready for a successful investment round even as an hardtech and early stage startup.
Stephan Schulze is Investment Director at IBB Ventures and Dipl. Ing. in Economics and Mechanical Engineering. With his many years of experience, he will discuss how you can achieve a successful investment round as an early stage startup in the hardtech sector.
The Ideal situation when Venture Capital helps the most
The expectation of a Venture Capital Investor
Process and timeline of acquiring Venture Capital
Tipps and tricks from insidencing and grow your early stage startup
How to use your investors, network and promote the campaign?
About Stephan Schulze, Investment Director at IBB Ventures
About IBB Ventures
Enjoy the evening at our Eventlocation Berlin Alt-Treptow with a lot of insights on investments for early stage startups, together with great colleagues, new contacts and of course some drinks and food.
This event is limited to 25 MotionLab.Berlin Members (please bring show your Member card) and 10 Non-Members.
MotionLab.Berlin | Events in Berlin
Are you interested in more events on topics such as hardtech, modern machinery, prototyping, business workshops, networking, fundraising, female founders, circular economy, community events, different early stage startups or our programs? Check out all our events here!
Or do you want to host your own event at our eventlocation Berlin in Alt-Treptow? Check out our eventlocation and send your request.