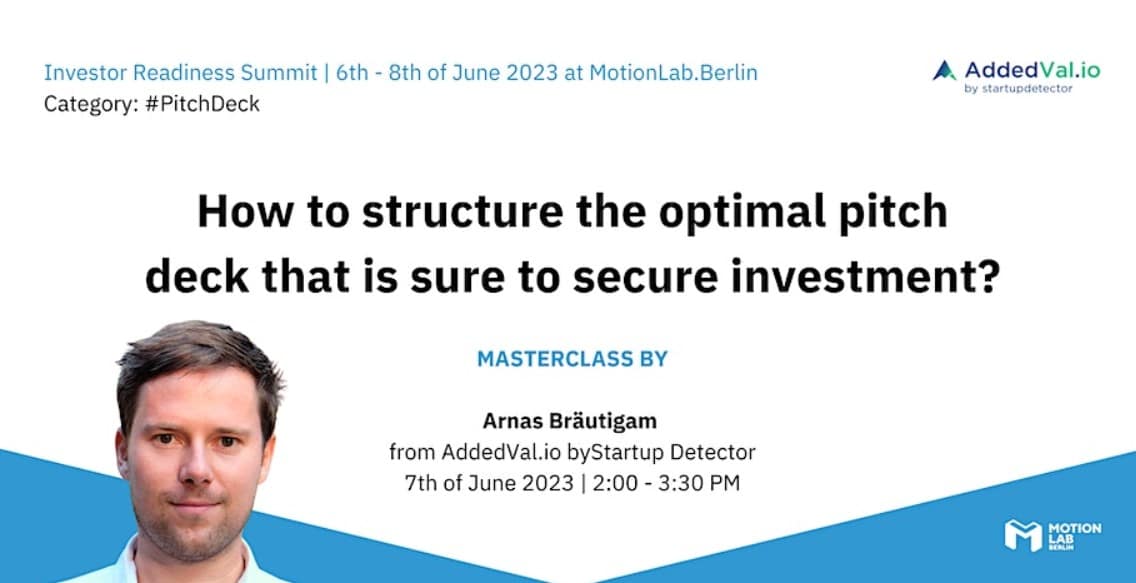 Masterclass: How to structure the optimal pitch deck for investors | Investor Readiness Summit
Masterclass: "How to structure the perfect pitch deck for investors" – by Arnas Bräutigam, co-founder of Startupdetector and AddedVal.io
Fundraising from business angels and VCs can be the key to success to finance your start-up. But many startups in the fundraising process fail due to lacking or unclear pitch decks. Arnas Bräutigam is co-founder of Startupdetector and AddedVal.io and has a profound knowledge and experience on how to structure and present the perfect pitch deck.
During this masterclass participants will learn the key components of a successful pitch deck, such as identifying the problem, presenting a unique solution, highlighting market potential, and outlining a solid business model as well as further tips and tricks.
This is the perfect opportunity for you to optimise your deck and get crucial advice from an industry expert.
Join the masterclass and get valuable insights on how to structure your pitch deck!
This event is part of the Investor Readiness Summit, please check the whole program here.
*Summit pass owners receive access to all Masterclasses as well as the evening events from Leapfunder and BACB.*
MotionLab.Berlin | Events in Berlin
Are you interested in more events on topics such as hardtech, modern machinery, prototyping, business workshops, networking, fundraising, female founders, pitch decks, community events, different startups or our programs? Check out all our events here!
Or do you want to host your own event at our eventlocation Berlin in Alt-Treptow? Check out our eventlocation and send your request.