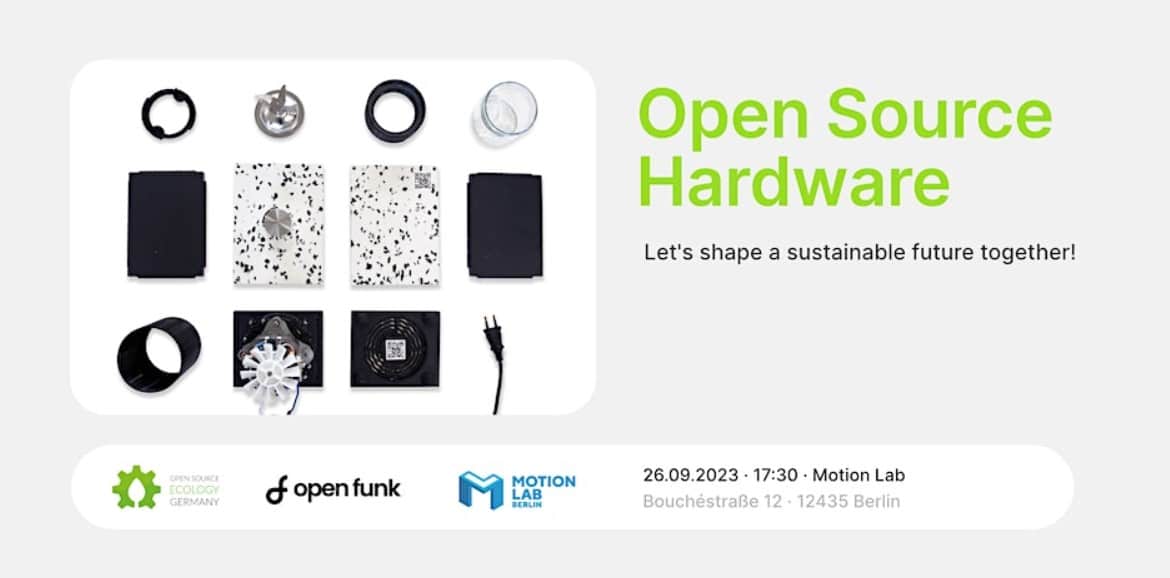 Open Source Hardware in the Wild
Open Source Hardware in the Wild – Conference, Meetup, Workshop & Networking
Clothes, furniture, computers, magnetic resonance scanners – our world is shaped by technical inventions, mostly with the aim of increasing or maintaining our quality of life. In view of the increasing consumption of resources and the strain on ecosystems, the question arises: Can we as a society still afford to lock up good ideas, as patents do? For some it is a toolbox, for others a philosophy of life. Open Source Hardware's approach to openly sharing knowledge enables individual and collaborative innovation on a scale we cannot even imagine today.
Date: 26th of Sep. 2023 – 5:30 PM (CEST)
Location: MotionLab.Berlin Alt-Treptow
The hosts: Open Source Ecology Germany e.V.  & Open Funk
Open Source Ecology Germany e.V. was founded in 2016 to support, document and create standards for Open-Source-Hardware projects!
In the last year we have delved into the documentation of 3 projects, checked them thoroughly against official standards and even built them ourselves. All our experiences and guidelines of the last years are now summarized in a handy booklet!
You are invited to "Open Source Hardware"!
Therefore, we cordially invite you to present our results and discuss open source hardware with us on July 26 at 5:30 pm at MotionLab Berlin. How can we work together to make technology and knowledge, freely available to all, to foster the development of sustainable solutions?
From 6 pm we will introduce you to our project and all those involved. There will be an insight behind the Open-Source-Hardware idea and the worldwide movement.
In a workshop starting at 7 pm, we want to brainstorm with you about Open Source Hardware Business Models. What resources does an open project need, and what resources grow out of it?
From 8 pm there will be drinks and a BBQ, a free time to get to know each other and socialize.
Feel free to bring something, like a craft, invention or something from your project !
Together with the hosts of the event Open Source Ecology Germany e.V. and open funk, we are looking forward to welcoming you at our eventlocation in Berlin at MotionLab.Berlin in Alt-Treptow!
MotionLab.Berlin | Events in Berlin
Are you interested in more events on topics such as hardtech, modern machinery, prototyping, business workshops, networking, fundraising, female founders, venture capital, community events, different startups or our programs? Check out all our events here!
Or do you want to host your own event at our eventlocation Berlin in Alt-Treptow? Check out our eventlocation and send your request.