STARTUP SCALING PROGRAMS & ACCELERATORS
Building a hardware startup is hard, we are absolutely aware of that! Especially in the first stages of developing and founding a hardware based startup there can be many difficulties. Hurdles which may seem tough to overcome at first glance. However, just because we deal with many different hardware ideas, products and startups from our hardtech community on a daily basis, we can say with certainty: It is not as hard as it seems first. Especially with the help of our startup scaling programs and accelerators.
Each of our startup scaling programs aims to support tech startups that have the potential to conquer markets and find solutions to the biggest problems of our time through their technological advantages. During the programs, participating startups and talents receive, among other things, financial support, in-kind services and coaching to realize their ideas and successfully position their product in the market. In the process, they receive business coaching and mentoring from industry experts and are guided by experienced engineers in prototyping and product development. Additionally, they get access to various business services (such as grant application support, accounting, human ressources, prototyping as a service, patent and certification and much more) as well as full access to our space, machinery, a unique hardtech expert network and the MotionLab.Berlin entrepreneurship ecosystem. Every startup is different, faces individual challenges but also opportunities and therefore develops at a different pace.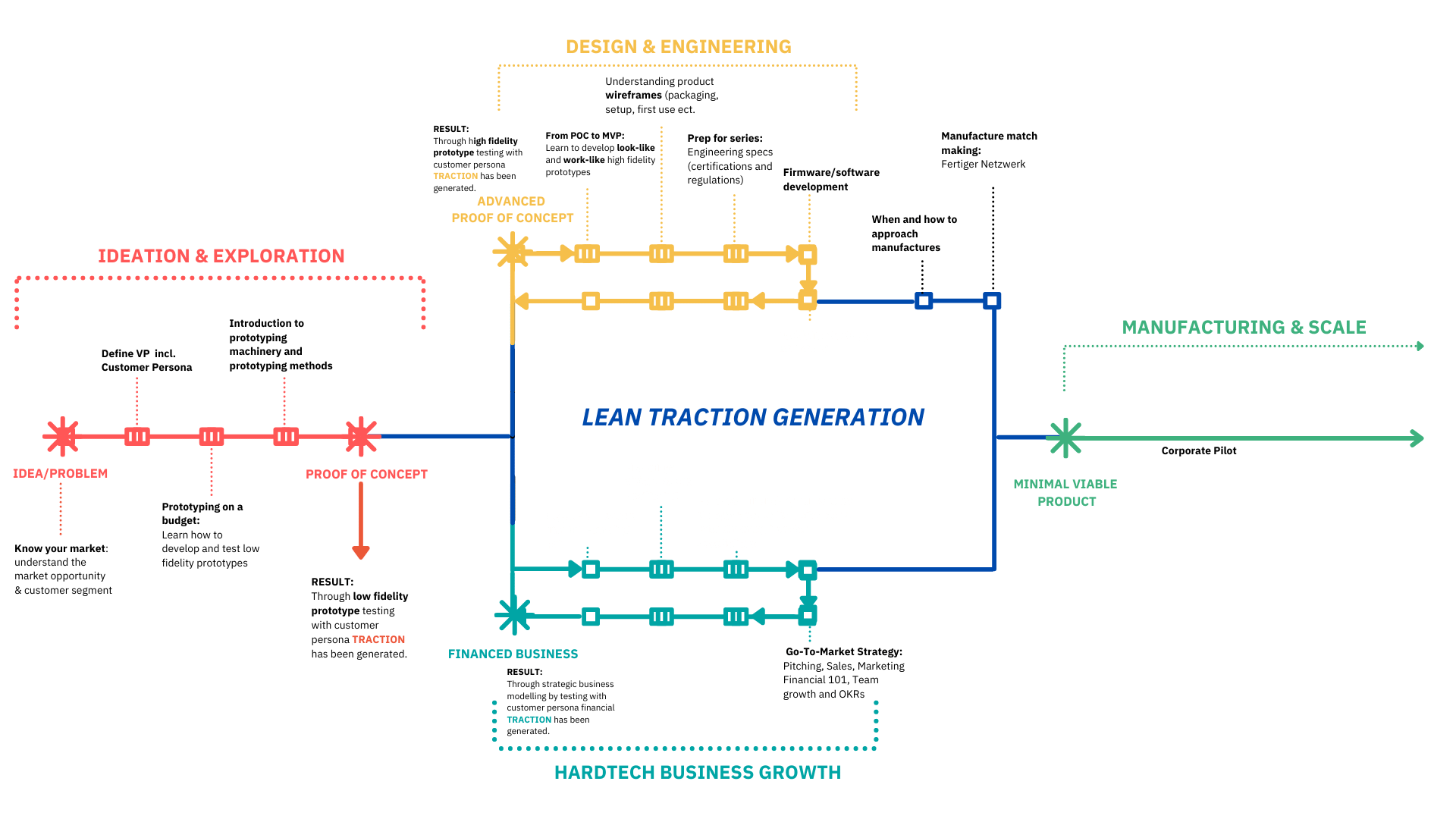 Unlike software-only solutions, the development of a hardware product with a technical component is more versatile and often more challenging. In addition to the "common" challenges of starting a business and successful startup scaling, such as securing startup capital, building a strong team and developing the business model, hardtech startups face many other challenges such as the lack of prototyping space, machinery and the acquisition of highly specialized knowledge. By working closely with our startups over the past years, we now know exactly what matters in the early days. We have codified this knowledge in the principles of our hardtech Cycle and designed a curriculum specifically for hardtech startups. The curriculum contains a selection of different modules that impart knowledge from founding a company and successful startup scaling, to hardware development, prototyping and tech. The module portfolio of the hardtech Cycle is divided into up to 4 phases.
We wake up industries and make up for what did not happen in the past. Following this motto, we developed our program series! A unique collection of incubator, accelerator and hands-on startup scaling programs designed to foster industry-specific hardtech development for innovators, entrepreneurs and startups. Our focus lies on hardtech development, since we strongly believe that only the right hardware combined with new technologies will bring the change we need to truly make a difference and create a livable future. With the help of our startup programs, the selected teams benefit from startup funding, mentoring sessions, coaching, machine and rapid prototyping workshops, the integration into our innovation network and the possibilities of our space, in order to successfully launch their idea. Check out our 4 programs:
We wake up Internet of Things! Within our 5 month program together with over 130 students and the unique opportunity to turn their ideas and IoT concepts into reality with our help.
We wake up hardtech innovation! In our accelerator program, MakeUp Hardtech Innovation, we provide early-stage hardtech founders with the prototyping space, startup funding, and hands-on coaching and knowledge they need to scale their ideas.
In our 8 month startup investment and venture support program, MotionLab.Ventures, we aim to back hardtech startups develop solutions to net-zero carbon emissions with startup investments and access to experts, makerspace and knowledge!
Success through cooperation and shared knowledge! In our accelerator program craft meets startup, we create the basis for bringing together large craft companies and young, innovative startups. Within the framework of this startup program, the participants can jointly work on new hardtech developments and receive mutual support.
BECOME AN EXCLUSIVE PARTNER
OF ONE OF OUR STARTUP PROGRAMS NOW
We know very well that an idea can only improve if we talk about it, keep getting new feedback and integrate it. In doing so, our motto is to build, iterate, repeat. And the right sparring partners are at least as important in this process and also a central aspect of our startup scaling programs. Mentors, coaches and industry experts who are willing to share their knowledge and work with you to make your idea even better. Because in the end, we all have a common goal: a livable, fair future through technological progress, for everyone.