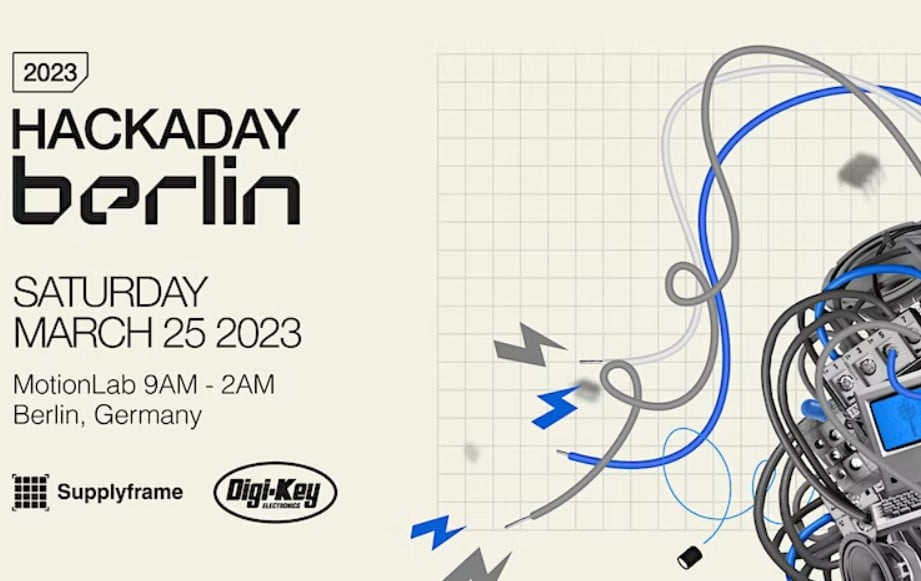 Hackaday Berlin 2023
Join us for Hackaday 2023 Berlin! A one day hardware conference on Saturday, 25th of March, 2023.
We are incredibly excited to announce the return of Hackaday Europe, a one day conference on Saturday, 25th March in Berlin, Germany. Plus extra festivities on the 24th and 26th!
Join us to experience talks and workshops exploring the most unique, cutting-edge, and world-changing topics revolving around hardware creation. You'll hear talks, see demos, and take workshops on topics ranging from learning new tools or techniques to fabrication adventures, from code-wrangling that firmware project to your giant LED design project, and everything in between.
The demos, badge hacking, food and drink, DJ sets, and a warm and welcoming village of great people make this an event you don't want to miss.
This will sell out, get your ticket now!
Interested in volunteering? There are limited volunteer opportunities available, please fill out this form if you would like to be considered: https://forms.gle/duHQkXfyW1ZVXarp7
Lightning Talks:
We will have two sessions for 7min lightning talks, stayed tuned for more info on how to participate.
Conference Events:
This is the fourth Hackaday Europe. We hosted the first Hackaday Belgrade in 2016 to an enthusiastic, sold-out hall and the second in 2018. We are very excited to mix it up and be doing it in Berlin this year, here's what we have in the works:
Talks and Workshops will cover hardware, engineering, creativity in technical design, product design, prototyping, etc. run from 10am until 9pm.
Badge Hacking goes all day and will be extended into the wee hours of the morning. Every attendee of Hackaday Berlin will receive one of these amazing custom electronic badges. The badge demo presentations will take place at 11 pm.
There's More:
We're keeping the costs low to offset your travel costs. The cost of the admission includes the cost of the badge, as well as excellent food and drink during the conference and a party late into the night.
Voja Antonic, who does amazing work with PCBs and badge designs, is the creator of this year's badge.
Keep an eye out for more details on Friday night's preparty.
Berlin will be the hardware center of the Universe this March. See you in Berlin!
LOCATION: MotionLab.Berlin, Bouchéstrasse 12, Hall 20 12435 Berlin // Germany
Powered by Supplyframe & Digi-Key
MotionLab.Berlin | Events in Berlin
Are you interested in more events on topics such as hardtech, modern machinery, prototyping, business workshops, networking, female founders, circular economy, community events, different startups or our programs? Check out all our events here!
Or do you want to host your own event at our eventlocation Berlin in Alt-Treptow? Check out our eventlocation and send your request.