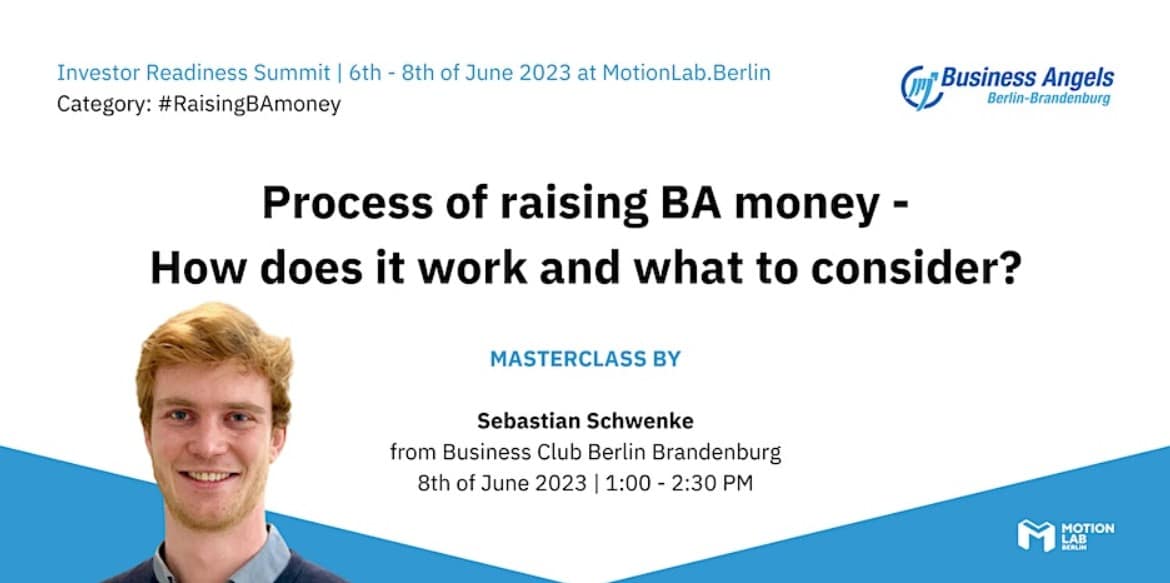 Masterclass: Process of raising money through business angel | Investor Readiness Summit
Masterclass: Process of raising money through business angel | Investor Readiness Summit
Join Sebastian Schwenke from BACB for a masterclass on the process of raising angel money. During this session, you will gain a deep understanding of the key elements involved in securing angel investment, including the importance of a strong business plan, the art of pitching to investors, and what to consider when negotiating deal terms.
You will also gain valuable insights into the angel investment landscape, including the different types of angel investors and the various channels through which they operate. With practical examples and real-world insights, this masterclass will equip you with the knowledge and tools needed to successfully navigate the process of raising angel money and take your business to the next level.
After this class you will better understand what an angel expects, how to go about the outreach process, what to consider during the due diligence process, know insights to term negotiations and have a better understanding of the common startup fundraising pitfalls.
*Summit pass owners receive access to all Masterclasses as well as the evening events from Leapfunder and BACB.*
Profit from a lot of insights into how to raise money through business angel. Get your ticket here!
This event is part of the Investor Readiness Summit, please check the whole program here.
MotionLab.Berlin | Events in Berlin
Are you interested in more events on topics such as hardtech, modern machinery, prototyping, business workshops, networking, fundraising, female founders, venture capital, community events, different startups or our programs? Check out all our events here!
Or do you want to host your own event at our eventlocation Berlin in Alt-Treptow? Check out our eventlocation and send your request.