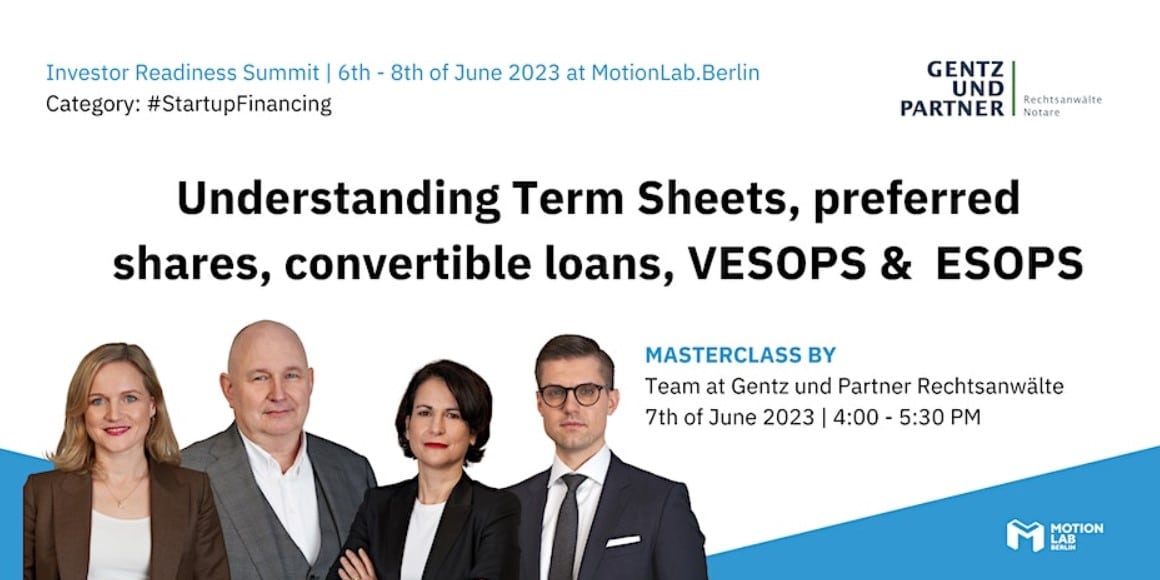 Masterclass: Startup financing & legal elements: Term Sheets, loans, VESOP & ESOP | Investor Readiness Summit
Masterclass: Startup financing & legal elements: Term Sheets, loans, VESOP & ESOP | Investor Readiness Summit 2023
Join Gentz und Partner Rechstanwälte for a comprehensive masterclass on startup financing and its legal elements. During this session you will learn to understand what employee participation is as well as the ins and outs of term sheets, preddereed shares, esop, vesop and convertible loan agreements.
After this masterclass you will understand the key terminology and definitions, how to fairly involve your team, how to protect founder equity ownership, how to structure a convertible loan agreement and how to avoid common pitfalls.
*Summit pass owners receive access to all Masterclasses as well as the evening events from Leapfunder and BACB.*
Get valuable insights into startup financing, its legal elements, esop, vesop, loans, term sheets and much more through this masterclass on the 07.06.2023. Get your ticket here!
This event is part of the Investor Readiness Summit, please check the whole program here.
MotionLab.Berlin | Events in Berlin
Are you interested in more events on topics such as hardtech, modern machinery, prototyping, business workshops, networking, fundraising, female founders, venture capital, community events, different startups or our programs? Check out all our events here!
Or do you want to host your own event at our eventlocation Berlin in Alt-Treptow? Check out our eventlocation and send your request.