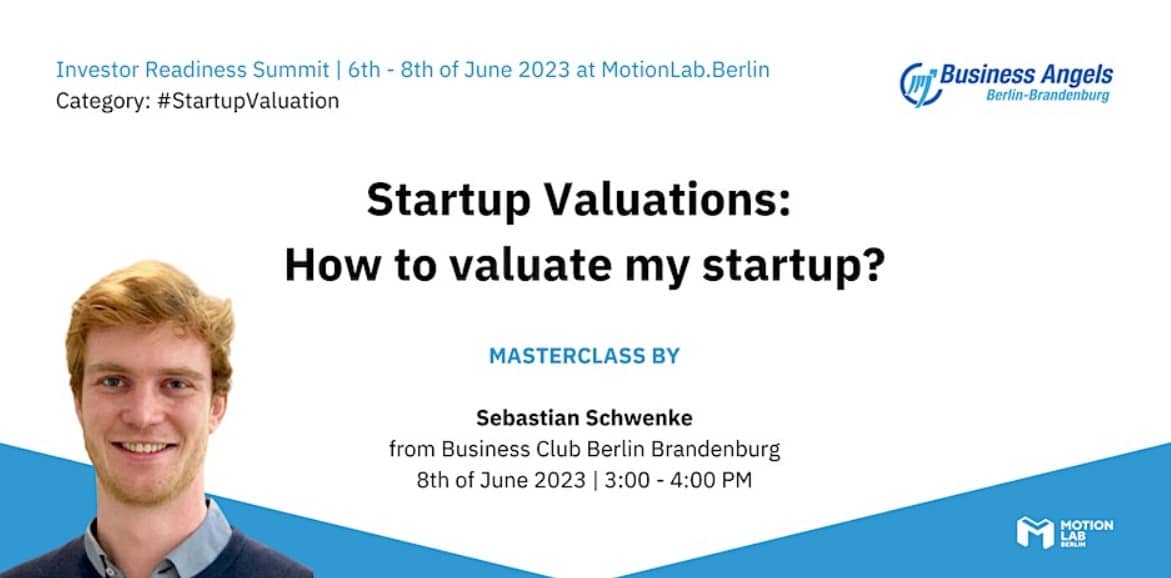 Masterclass: Startup Valuation – How to valuate my startup? | Investor Readiness Summit
Masterclass: Startup Valuation – How to valuate my startup? | Investor Readiness Summit
Getting the valuation of your startup right is critical for maximising your chances of success and ensuring long-term sustainability. But how does one calculate a startup valuation that is fair in terms of equity dilution and does not hinder your ability to attract investors and raise sufficient funds to fuel growth?
Find out exactly how to navigate this process in Sebastian Schwenke's (BACB) masterclass on startup valuation. During this session, you will learn about the key factors that influence startup valuations and gain a deep understanding of how to valuate your own startup.
You will also gain insights into the different valuation methods used by investors and the pros and cons of each approach. With practical examples and expert guidance, this masterclass will equip you with the knowledge and tools needed to accurately and effectively value your startup, which can help you secure funding and drive growth.
Whether you're a startup founder or an investor, this masterclass is a must-attend for anyone looking to understand the fundamentals of startup valuations.
*Summit pass owners receive access to all Masterclasses as well as the evening events from Leapfunder and BACB.*
Get a lot of valuable insights into startup valuation in this masterclass. Get your ticket here!
This event is part of the Investor Readiness Summit, please check the whole program here.
MotionLab.Berlin | Events in Berlin
Are you interested in more events on topics such as hardtech, modern machinery, prototyping, business workshops, networking, fundraising, female founders, venture capital, community events, different startups or our programs? Check out all our events here!
Or do you want to host your own event at our eventlocation Berlin in Alt-Treptow? Check out our eventlocation and send your request.