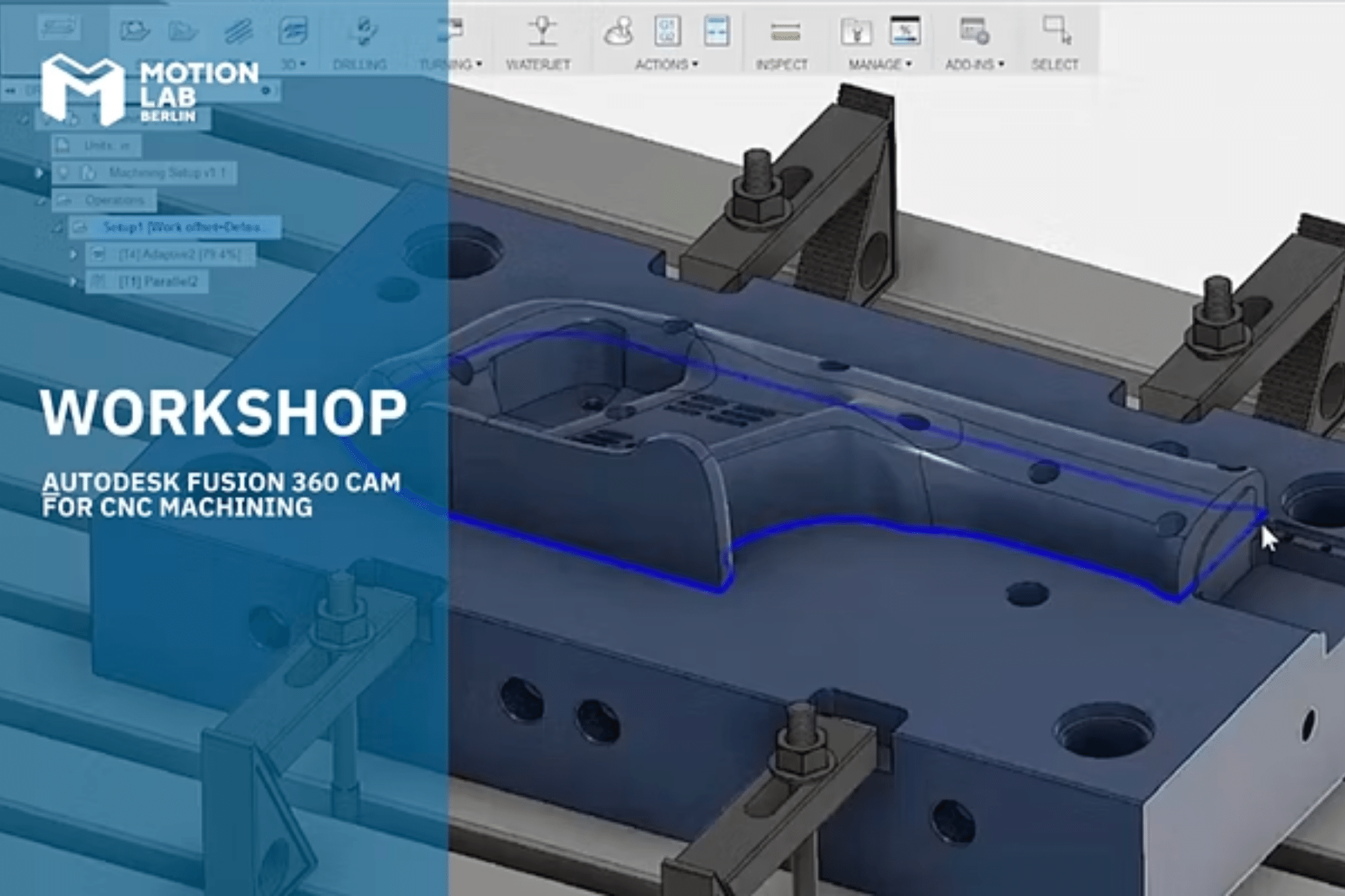 Workshop – Autodesk Fusion 360 CAM for CNC Machining
Learn to use Autodesk Fusion 360 for CNC machining!
About this event
In this four-hour workshop you will learn how to use Autodesk Fusion 360 CAM module. This module allows you to prepare your 3D models for machining/prototyping on CNC mills in an easy and accessible way. By the end of the session, you will have created a code file that is compatible with the CNC milling machine at MotionLab.Berlin.
If you do not have experience designing in Autodesk Fusion 360, or any other CAD software prior to this workshop, we strongly recommend you to attend before the Introduction to CAD design with Autodesk Fusion 360 Workshop.
Learning outcome
During the workshop you will learn how to:
Prepare your 3D-model for the CAM process in Autodesk Fusion 360
Nest your components on a virtual milling bed
Set milling paths
Simulate the milling process
Transfer your file to the CNC machine
By the end of the session, you will have the opportunity to present a project of your own to the instructor, and review the plan you have for CNC-milling it.
This workshop will also prepare you to attend the Introduction to the 3-Axis CNC machining workshop, which grants you the possibility to use the CNC milling machine at MotionLab.Berlins'.
Pre-Requisites
For this course you will need:
A laptop with pre-installed Autodesk Fusion 360 (you can download a free-trial version of the software HERE)
A mouse with a scroll wheel
Other materials for the workshop will be provided to you and are included in the price.
This workshop is held in English language, and in German at specific request.
Your Instructor
Hi, I'm Eddel, and I am an Autodesk Fusion360 expert. My advanced CAD skills allow me to show you how to create almost any object you intend to visualise, prototype and put into production. I have been instructing more than 100 people at MotionLab.Berlin for the past 3 years.
Current COVID-19 rules at MotionLab.Berlin
According to the current COVID-19 restrictions, we encourage you to be careful and have appropriate hygiene gear on at all times. Please wear a FFP2 or a medical mask during the workshop.
You can find further information about the hygienic measures at MotionLab.Berlin in our hygieneplan (Link in German)